Carnilove is a superpremium dog food with a unique formula comprising 70% chicken / 65% salmon and white fish, and indispensable, highly-efficient antioxidants in the form of fruit extracts. The natural composition of Carnilove is completely free of grain, a source of empty calories. In simple terms, Carnilove is designed to meet a dog's natural nutritional requirements with a view to their biological origin and anatomical disposition. Brit is the first Czech producer capable of producing this unique "grain free" formula.

The philosophy underlying the Carnilove (carnos – meat, love) pet food returns to the natural foundation of canine nutrition, while maintaining modern dog feeding trends. Dog food know-how lies in the parallel with natural dog nutrition, with approximately a 70% share of ingredients of animal origin and a 30% share of ingredients of vegetable origin. The highly digestible proteins and other important nutrients contribute to a dog's vital condition. Apart from the high content of proteins, Carnilove also contains natural antioxidants (cranberry, pomegranate and grape extracts) strengthening the immune system. Thanks to its "one protein" composition (utilizing only one source of animal proteins), Carnilove may help solve food intolerances.
Carnilove is suitable for all adult and active dogs that can utilize energy from animal sources efficiently, such as breeds typically used in sports, hunting or rescue and working dogs. The pet food, which is primarily derived from animal resources, also agrees with sturdy framed breeds (such as molossers and bulls) requiring the chondroprotective agent content to support healthy joints and cartilage. Its optimal 70:30 ratio of animal proteins to fruit and vegetables, and its taste attractiveness and ideal content of efficient additives (such as vitamins, microelements or antioxidants) based on the latest knowledge of nutrient requirements for dogs, all contribute to making Carnilove pet food the natural dog nutrition choice.
Carnilove High in Chicken
70% chicken. This combination of highly digestible proteins and life-beneficial nutrients contributes to the active and vital condition of your dog.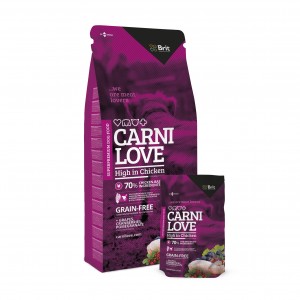 Carnilove Salmon & White Fish
65% salmon and white fish. A combination of fish oils replenishes the content of DHA and EPA unsaturated fatty acids and supports the functions of the nervous system.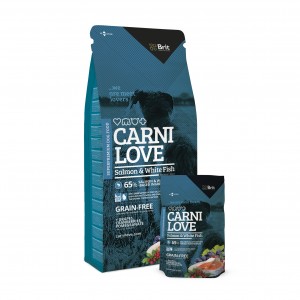 Date of Publication
Name
Download DOC
Download ZIP
23/11/2012
Carnilove – Press Release
DOC
–
23/11/2012
Carnilove – Photos
–
ZIP
23/11/2012
Carnilove – Leaflet
PDF
–