As happens every two years, the world's biggest trade fair for the international pet supplies industry opened its doors on 29 May 2014. In addition to Norbert Holthenrich, President of the German Pet Trade and Industry Association, Ulrich Maly, Mayor of Nuremberg and Hans-Jochen Büngener, Chairman of the Exhibition Committee, took part in the formal opening. They say this year's trade fair will balance demand and animal needs.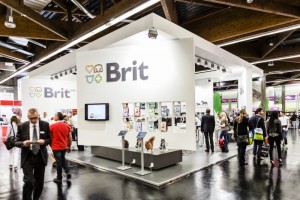 Euromonitor research shows sales in the world pet supply market reached €72.3 trillion in 2013. At the press conference, the President of the Central Organization of Zoological Specialists, Norbert Holthenrich, said the fast pace of the industry's growth was visible even in Latin America, with similar expectations for the Asian market, as well.
About 1700 exhibitors from 50 countries presented their products to specialists and tradespeople from all over the world. The trade fair also attracted the attention of this year's Global PETS Forum Award 2014 winner, Brit-VAFO PRAHA. The company relaunched a superpremium hypoallergenic line for cats called Brit Care Cat, which enjoyed a great response from distributors around the globe. "Cats are very diverse beings, just like humans. They have different needs depending on their age and where they live. The new formulas are based on high meat content, a balanced mineral ratio and the addition of sea-buckthorn," says Karolína Čápová, VAFO PRAHA Marketing Manager.
Interzoo is the world's largest trade fair for the international pet industry. About 1700 producers, wholesalers and service providers from more than 50 countries around the globe introduced their latest products at the fair.
Jan Kotchera, a sales manager of brand Brit, summed up the company's trade fair experience as follows: "Interzoo is a great opportunity to meet existing customers and contact new customers from all around the globe. We used the trade fair opportunity to break into the Southeast Asia market, with the result that our products are nowadays sold in Malaysia, Indonesia and Singapore. We also contracted last year to open a market in South America."
Brit – VAFO PRAHA s.r.o. | Website: http://www.brit-petfood.com │ Facebook: http://www.fb.com/britcare
Brit – VAFO PRAHA s.r.o. is a Czech pet food producer – a family business engaged in pet food development, production and distribution since 1994. Brit pet foods are exported to 55 countries in Europe and around the world. In its home market, Brit holds the leading position in the field of nutrition. The development and production of our pet food is based on long-term experience and thorough knowledge of healthy dog and cat nutrition, with the greatest respect for their health and well-being. The professionals responsible for Brit foods development are also dog breeders and owners. Brit cooperates closely with specialists in the field to produce pet foods that meet the highest quality standards.
Datum vydání
Název
Stáhnout DOC
Stáhnout ZIP
3/6/2014
Brit Press Release
DOC
–
3/6/2014
Brit Photos
–
ZIP