The producers of Czech Brit super premium pet food brings us a revolutionary training programme for dog lovers. They have introduced the tasty Brit Training motivational treat, made in sizes tailored to dogs' individual weight categories. Its content is balanced in regards to calories and is highly digestible. An ideal opportunity to give this training aid a try is with the unique Brit programme within which your doggies can expect to hear their first class bell as school starts this September!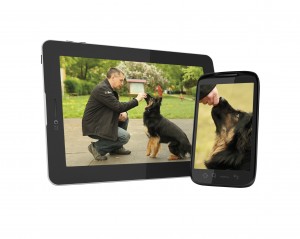 After 19-years of experience in the field, Brit knows that training every one of our four-legged friends is a sensible endeavour. Not only does it provide an opportunity for owners to establish a closer relationship with their shaggy fellow friends, but this fun activity will also teach doggies how to avoid conduct that would otherwise throw them into unwanted situations. To put it simply, it is possible to train living a life together without storm clouds on the horizon – and you can begin with Brit and its Training Tips programme.
Beginning Sunday, September 1st, 2013, Brit will be releasing short, simple, weekly videos on their trainingtips.eu website. These videos will provide instruction on how to teach basic commands, encourage desirable reactions to common everyday situations, cope with new family members or how to get rid of unwanted habits. Apart from that, Brit will also advise breeders on how to take proper care of their dog and show them how to break through in the world of exhibitions.
Brit champions positive motivation, enabling owners to create a true symbiosis with their dog. Of course, the question then arises of how to motivate a pet for this particular type of training. The most commonly used sponge biscuits have a high sugar content (which is bad for the teeth and physique) and feelings of hunger become more intense as the sugar content in the blood increases (once again, bad for the physique). On the other hand, the favored dried meat snacks have a negative impact on a dog's concentration (it's as if you were telling your dog, "I bet you don't know which pocket I hid the snack in?") and their high protein content, at the expense of saccharides, is not optimal for activity.
For these reasons Brit has developed Brit Training especially for this motivational programme. Brit Training is tasty, balanced in calories, puts no strain on the animal's organism and doesn't cause any unwanted effects on the dog's teeth or its performance. The size of the treats has been intuitively divided into S, M, L, XL and Puppies varieties.
That's all there is to it – just join Brit and from the beginning of September, go through up to 52 training tips that you can "tune in to" on the Internet (trainingtips.eu), Facebook (fb.com/britcare) and on your mobile phone (iOS | Android or through the QR code found on each package of Brit Training). If you participate in at least 12 of the training tip sessions, you will receive a gift and a certificate of participation in the training programme from Brit. Simply put, Brit has prepared an easy programme that will allow you to be the master of any situation under any circumstances. There's nothing left to add except how much we are looking forward to the challenge!


Brit Training S │ M │ L │ XL │ Puppies
A safe and dietetical everyday training aid that you can try out as part of the TrainingTips.eu programme.
Date of Publication
Name
Download DOC
Download ZIP
3/9/2013
Brit Training Snacks & Tips
DOC
–
3/9/2013
Brit Training Snacks & Tips – foto
–
ZIP