The Czech producer of Brit pet food, VAFO PRAHA, has been permeating cyberspace launching not one, but two smart phone applications simultaneously. The first utilizes QR codes, enabling users to play animations explaining the key benefits of a particular product. The second application makes the product catalogue newly available through smart phones, facilitating access to information about Brit products, not only for customers but for sellers as well.

As opposed to a bar code, a QR code is a mixture of little square dots which may be read by any mobile phone with a camera and an installed reader. By means of these codes located on pet food packages, videos can be shown explaining individual icons used on each package. Animations overlaying the animal illustrate where and how the individual components of quality nourishment have their effect.
For a demonstration of the application have a look here.

Alternatively, the product catalogue may be downloaded to smartphones with iPhone and Android operational systems free of charge. The product catalogue is in English which enables customers from all over the world to work with it. It details the characteristics and composition of the full range of Brit pet food, canned meat, treats, and supplementary products for dogs and cats.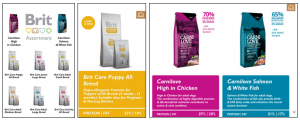 Pavel Bouška, the company's owner says: "Until recently we had been producing food for Czech pets, today we distribute Brit products to 45 countries throughout the world. We are one of the first in our market segment to offer an overview of these products through a mobile application. It is yet more proof for us that a family business with a friendly approach can break into the international market. Among the next steps we are going to take is our plan to extend the catalogue with more functions such as direct purchasing or a sophisticated search option for the ideal pet food according to specific parameters entered for a particular animal."
Date of Publication
Name
Download DOC
26/1/2013
Brit – Press Release
DOC