Brit Premium Sausages* are salami with a unique combination of genuine pieces of meat and a light pâté. The high meat content (95%) guarantees a flavoursome taste and excellent digestibility. A wide range of varieties provides an opportunity to variegate your dog's diet and is a suitable supplement to complete dry nutrition. It does not contain any soy, genetically modified food products, or preservatives.
With the intention of varying the menu in our four-legged fellows' bowls, Brit pet food producer has introduced a new product with the highest meat content ever. Brit Premium Sausages are salami containing a 95% share of meat in five varieties: Lamb & Rice, Chicken & Rice, Turkey & Rice, White Fish & Potatoes, and Sport Formula. In addition, the salami contain fragrant and savoury whole chicken hearts, easy for dogs to digest. The recipes feature a hypoallergenic composition and – thanks to their rich animal proteins – support and contribute to better digestion.
"A meaty delicacy such as this is a suitable supplement to dry dog food,"nutrition expert Ing. Martin Kváš recommends mixing the sausage with dry food, adding that meat can whet the appetite of older dogs or those with health issues. Thanks to its soft consistency, Brit Premium Sausages are also suitable for convalescing dogs. In short, dogs will find it impossible to resist.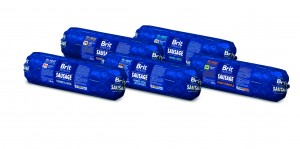 Brit Sausage with Lamb & Rice
• 95% meat, comprising 10% lamb, 85% chicken and turkey
• A flavoursome pet food with a high meat content beneficial for every type of dog
• The meat food contains hypoallergenic lamb with a well-balanced amino acid profile which is beneficial to your dog and aids digestion

Brit Sausage with Chicken & Rice
• 95% meat, comprising 50% chicken and 45% turkey and fish; also containing whole chicken hearts
• Unique meat food product produced from chicken meat and rice, intended for all dogs, not just finicky ones
• Thanks to its rich animal protein content supports and contributes to your pet's better digestion

Brit Sausage with Turkey & Rice
• 95% meat, comprising 15% turkey and 80% chicken and fish
• Excellent meat food product containing turkey meat and rice, suitable particularly for dogs with a tendency toward weight gain and obesity, also suitable for seniors
• This delicacy ensures optimal weight for each dog


Brit Sausage with White Fish & Potatoes
• 95% meat, comprising 8% white fish and 87% chicken and turkey
• Flavoursome pet food with a high percentage of meat, free of cereals, containing white fish and potatoes
• White fish is a balanced source of omega-3 polyunsaturated fatty acids providing a positive impact on the quality of your dog's coat

Brit Sausage Sport Formula
• 95% meat, comprising 15% beef, 10% liver; also contains whole chicken hearts
• Excellent pet food with a high meat content suitable for dogs with a physically demanding regime such as those fully engaged in sports, draft dogs or convalescing dogs
• High beef content
Date of Publication
Name
Download DOC
Download ZIP
1/9/2012
Brit Premium Sausage – Press Release
DOC
–
1/9/2012
Brit Premium Sausage – Photos
–
ZIP